Handcrafted Leather Goods

Original artwork made with Herman Oak tanned hides and other high quality materials
Customs open Oct 20th, 6pm EST
Feel free to check out what available inventory I have!

Day-of-order or by the next business day shipping
Handcrafted Leather Goods
Original artwork made with Herman Oak tanned hides and other high quality materials
Customs open Oct 20th, 6pm EST
Feel free to check out what available inventory I have!
Day-of-order or by the next business day shipping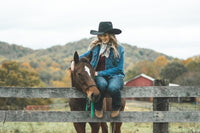 Welcome to my shop!
Hey y'all! My name is Katy, the hand behind the workbench here at Mountain Side Hide- located in the Appalachian Mountains of Virginia. Leather art inspired by the western and outdoorsman lifestyle. Everything you see is designed and built by hand from scratch, using the highest quality leather. Everything is tooled on Herman Oak tanned hide. If the site is looking empty, I am probably working on customs and inventory. Keep an eye out here and on my social media to be informed on when I open customs up again and when I post product updates.